Fort Lauderdale International Boat Show
Boat shows reaffirm the tremendous benefits of Florida living, despite the risks of hurricanes, actively participating in boat show events demonstrates clearly to the world that Florida will recover from the damage of Hurricane Ian and continue to embrace the astonishing array of benefits that Florida residents enjoy. These benefits include pleasant, warm weather most of the year, a great variety of water-based activities and famous outdoor amusement parks for families.   Be sure to stop by the Propeller Depot booth in the Bahia Mar Engine Tent.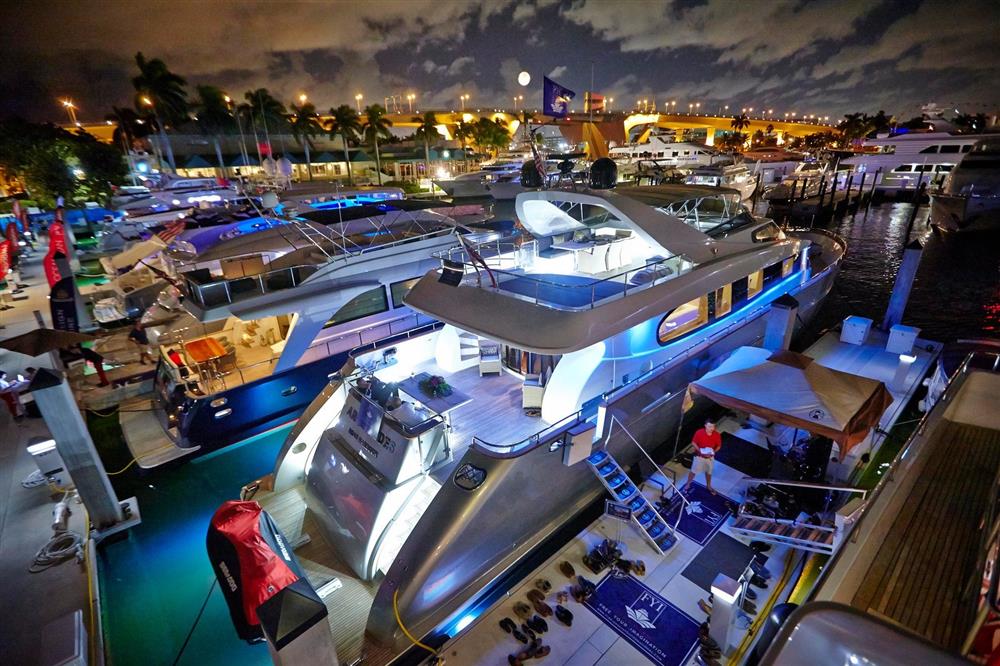 During Florida's boat show season, the state hosts multiple events for showcasing new and used yachts and boats for every taste, budget and work-related use. The Fort Lauderdale International Boat Show, a.k.a. FLIBS attracts boating enthusiasts from around the world, and Fort Lauderdale is as well-known for boating events as it is for Spring Break among college students.
Important Details of the Boat Show
Attending the Fort Lauderdale show provides great opportunities to learn about the latest trends and technical advances in marine technology. You can talk to industry experts, receive buying incentives and enjoy the sights and sounds of incredible excitement as participants ramp up their efforts to restore business-as-usual in the sunshine state after suffering tremendous hurricane damage. The basic details of the show include:
• When: October 26--30, 2022
• Location: Fort Lauderdale, Yachting Capital of the World, at multiple locations throughout the metro area
• Parking and Transportation: Skip fighting the traffic, and park at the centrally located Broward County Convention Center for only $20 per day. You can use public transportation shuttles and water taxis to get to all of the seven citywide show locations.
• Exhibits: More than 1,000 exhibitors from more than 52 countries
• Type of Boats: The Convention Center exhibits include cruisers, runabouts, fishing boats, fishing equipment, marine accessories, diving equipment and accessories, personal watercraft, etc. Other types of exhibits are unique to each of the six remaining exhibit locations.
Hours: Wednesday: 12.00 p.m. to 7:00 p.m.; Thursday through Saturday: 10:00 a.m. to 7:00 p.m.; Sunday: 10:00 a.m, to 6:00 p.m.
Greatest Boat Show on Earth
The FLIBS ranks as the greatest boat show in the world because the Bar Mar Yachting Center makes great efforts to retain its competitive advantage over the other shows. One ticket covers admission to all seven shows including Las Olas Marina and Bahia Mar Yachting Center.
The convention center  is included along with the Hall of Fame Marina. The remaining locations include the SuperYacht Village at Pier 66 South, the Hilton Fort Lauderdale Marina and the Pier 66 Marina.
All Play and No Work
FLIBS offers escape from everyday concerns and a chance to dream big and take the plunge if you find your dream boat. All play and no work, however, could make anyone debt-ridden and dull. The boat show offers educational seminars from professional boating instructors like Sheri Day, Jim Mathie and Manny Puig from The Blue Wild, FWC Officers and Ladies Let's Go Fishing's Betty Bauman. These accomplished boat experts cover many boat-related topics like fishing techniques, conservation, sustainability and best practices when sailing or boating.
Impressive Events for Boating Enthusiasts
You'll enjoy Fort Lauderdale's genuine commitment to boating, which far surpasses the city's enthusiasm for drunken college students on Spring Break. Guests will enjoy the camaraderie of fellow boating enthusiasts. Conventioneers can relax and enjoy Angler's Lounge's refreshment options on the convention center's second floor. The center also features an exhibit of one of AquaZone's freshwater pools that holds up to 40,000 gallons of water. Boat show attendees can have practical demonstrations of various watersports, activities and water-related products.
The Kids Corner
There are plenty of entertainment options for kids who often grow bored looking at boat after boat after the novelty wears off. The Kids Corner offers visitors and their kids an exciting outdoor festival with activities like fishing clinics for kids, marine arts and crafts, face painting and hands-on activities.
Summing Up This Year's Unique Opportunity
Attending the boat show this year gives attendees the opportunity of a lifetime to meet like-minded people, discuss the unique problems that Hurricane Ian caused and observe firsthand the rebuilding efforts. The show is owned by a cooperative boating industry group: Marine Industries Association of South Florida. Located near some of the world's greatest beaches on 90 acres and 3 million square feet of exhibition space, the show features entertainment, culinary exhibits and tastings, extensive exhibits of new and used boats for sale and the companionship of 100,000 visitors who love boating.
Browse the boats and product exhibits, learn more about fishing, boating and water-based sports and earn bragging rights that you bought your boat right after Hurricane Ian at the Fort Lauderdale International Boat Show, which will make a great conversation starter to break the ice for years to come. The show generates substantial economic benefits that the state can put to good use -- about $179 billion, according to estimates.