If you are planning on going out on a fishing trip with your kids you should know how to handle the little ones. Some of them may not be interested while others may be too excited to think about what it takes to fish correctly. Here are some tips to help you make fishing with kids an enjoyable experience.
Make early preparations
Start making preparations two weeks before the day you intend to leave for the trip. This will give you plenty of time to purchase any material or gear you may need. When going shopping take the children along so that they know everything that is necessary.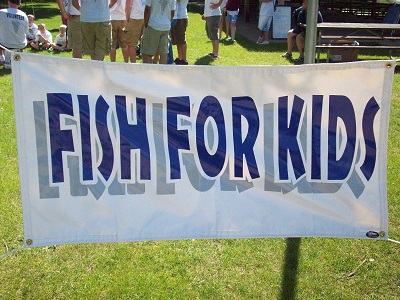 Talk about safety
Take some time to talk to your kids regarding safety while on the fishing expedition. Tell your kids about the right gear to wear and how to ensure that everyone is safe. Keep in mind that you may have to do the fishing on a cliff or in a boat. All the issues you discuss should be to give caution rather than to scare the kids.
Scout for the best location
You can do some research with your kids on the Internet or talk to locals for advise on some of the best places to fish. Keep in mind that the success of a fishing adventure is often measured by the number of fish you catch.
Give practical lessons
On the day of fishing let everyone know that you are partners and that you are going to participate equally. Let the kids observe as you turn on the boat and how you steer it to the location of choice. As you put bait on your hook let them have a clear view of whatever you are doing and ask any of them that wishes to try it to do so.
Let the kids fish
Teach your kids to hold their fishing rods with a tight grip because some fish are quite strong and may pull it away from their hands. Teach them how to observe the float and what to do when it moves. Tell them to be patient and emphasize that the size of the catch does not matter.
You can use artificial or natural bait
Fish are naturally drawn to natural bait which may include earthworms. However, for most kids the idea of baiting a hook using earthworms may be scary. Opt for artificial bait for any kid that seems to be scared of worms. Minnow-soft bait are designed to be durable and will therefore remain safe for use for a longer period.
Have fun
While doing your fishing be sure to have snacks close by and let anyone that wants to take a bite do so. Above all you should ensure that your kids have as much fun as possible.
If you have any questions on fishing or boating parts/propellers, reach out to the experts at Propeller Depot.